Tokyo Daijingu Shrine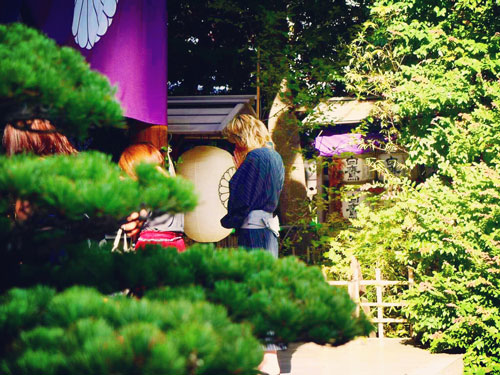 If you are looking for luck in the area of ​​love, you should visit the Daijingu Shrine in Tokyo. Located near the Kudanshita area, this Shinto shrine has as its main deity goddess Amaterasu, goddess of the sun. The shrine also has a deep connection with the imperial family. This shrine is located on a residential street, so you can notice the contrast between traditional and modern Japan.
This shrine is known for its ability to attract love, in any form. It is very popular among young Japanese since it is believed that by coming to pray at this Shrine you can attract or maintain your partner. This sanctuary has the peculiarity of having carved hearts on its doors, which according to legend will make your true love enter your life faster if you take a photo and put that photo of your cell phone's wallpaper. In this shrine, it is very common to see traditional-style weddings since many couples want the shrine of love to protect their marriage.
In the Edo period (1604-1868) all Japanese people had the goal of going to the Great Shrine of Ise, where the essence of goddess Amaterasu is enshrined, once in their life to Ise to pray. Because Ise is a long way from Edo (Tokyo), the Tokyo Daijingu Shrine functions as a branch of the Ise Shrine.
Omikuji (fortune predictions) directed exclusively for luck in love can be bought in the shrine enclosures. If you take one, you can see how your love destiny will unfold. And if you want to keep the essence of the sanctuary with you or want to protect your relationship, you can buy and take with you an omamori (protective amulet).
Although the sanctuary is not very large, it is aesthetically pleasing, and when you enter you feel an atmosphere of harmony. Here you can pray not only for the love of a romantic relationship but also for the love towards your family or friends. If you want to connect a little with the energy of magnificent goddess Amaterasu and want to attract love to your life, then you should pay a visit to the Tokyo Daijingu Shrine.
Hours:
Every day from 6 am to 8 pm.
Area Map