Panasonic Center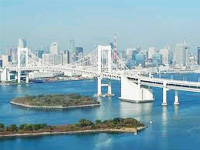 At Panasonic Center Tokyo (RiSuPia) near Odaiba that was set up by the Matsushita group, visitors can learn about Panasonic's visions on two of the aims they are most committed to; the network society and peaceful coexistence with the environment. The Center is a place of exchange where the visitor can learn what new products Panasonic has in store for us in the near future, and the visitor can let Panasonic know for which daily life issues they would like to have a solution.
The exhibitions are situated on two floors, and projects change continually. A visit to RiSuPia is interesting for everyone who likes to see what the future has in store technology-wise. Both kids and adults will have a fun time exploring this free center for around 1.5 hours, so it makes for a great activity in
Tokyo
on a rainy day if you have a bit of time left.
Area Map