Henn Na Hotel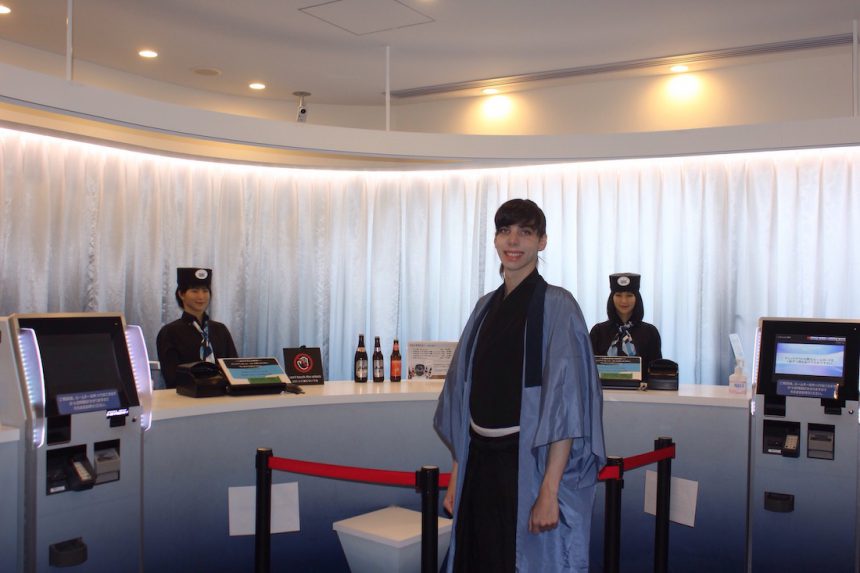 In Japan, there is a wide variety of hotels, from traditional Japanese-style ryokan to large Western chain hotels. Among all this diversity there is one especially special hotel that has several branches in Tokyo. Usually, there are no human employees at the reception, but at these hotels, clients are served by humanoid-looking robots instead.
It is called Henn Na Hotel which, translated to English would be 'Strange Hotel', and it is one of the most innovative franchises in the hotel industry in the world. As indicated before, it does not require people to man the reception since the entire process of check-in and check-out is done by robots and an electronic tablet. Foreign guests will only need their passport to register. The whole process is explained by the robots, and it is also written on the tablet for extra clarity.
Furthermore, the lobby has a fishbowl that is not inhabited by normal fish but with robots that move through the space with their futuristic appearance. The elevator can only be used with the electronic key in the form of a card, in this way the security of the customers is reinforced. The rooms are not very spacious, but they are quite clean and cozy. Each room is equipped with a smartphone designed to help tourists plan their trips. They also have a special machine for customers' clothes that improves their condition and eliminates wrinkles.
Breakfast varies depending on where the hotel is located, there are several hotels in Tokyo. In the case of the Asakusabashi branch breakfast is in an Indian restaurant meaning that you can enjoy a Japanese, American, or Indian style buffet. Henn Na Hotel is in Guinness World Records as the first hotel in the world to use robots as employees. The robots are real looking and can speak Japanese, English, Chinese, and a few other languages. Staying at this hotel is definitely a unique experience, and it is especially recommended for those who wish to enjoy an unusual experience.
Video
Area Map