Eiheiji Temple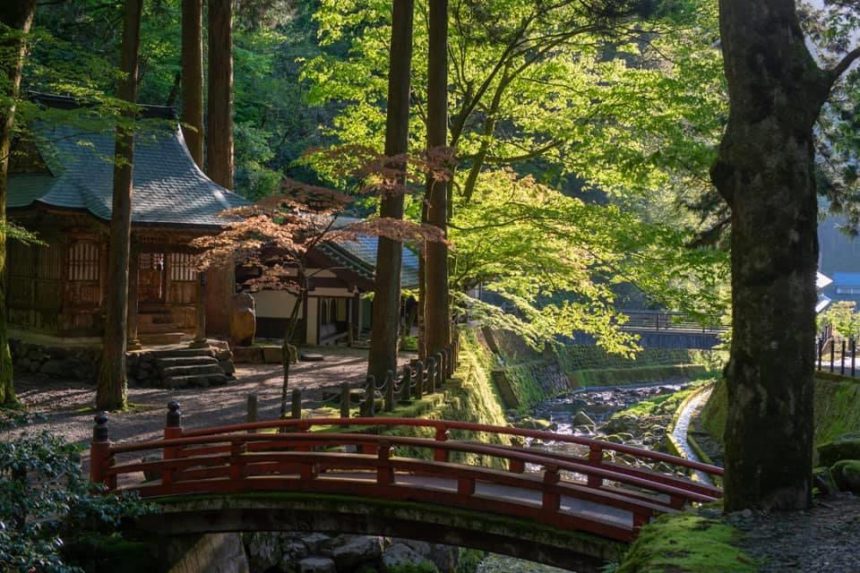 History of Zen and Eiheiji
Eiheiji, 'The Temple of Eternal Peace', is one of the two most important temples of the Soto Zen School. It is located deep in the mountains near the northwest coast of Japan, not far from the city of Fukui.
It was founded by Zen Master Dōgen in 1244. Samurai Yoshishige Hatano, one of his most devoted followers, offered him land and other forms of help. Dōgen thus established Eiheiji, where he dedicated himself to training his disciples in the perfection of Zen practice in every action of daily life. The authentic Zen of Dōgen Zenji has been scrupulously observed and passed on by his successors. Even today, at Eiheiji, more than a hundred monks devote themselves wholeheartedly to his teaching of shikantaza ('sitting with one mind').
A Zen monastery has often been compared to a forest, where the religious practice like trees and herbs growing together, in peace and harmony. At Eiheiji, the monks devote themselves to a continuous wholehearted effort in accordance with the teachings of Zen Master Dōgen, the founder of Eiheiji.
Zazen (sitting meditation) is the fundamental exercise, and it is not for the purpose of obtaining some certification of spiritual enlightenment, which is important, but it is not a purpose that people can ever achieve after practicing Zazen, step by step. The very devotion to Zazen manifests the Buddha's enlightenment. It is not only the exercise of Zazen but also all the activities of daily life: eating, walking, cleaning, etc. that are part of the religious practice. This is because life is what is in front of us, here and now.
Eiheiji is more than a tourist place. Since 1244 and until today, its halls have been filled with the sincere atmosphere of Zen practitioners who ceaselessly carry out the Buddha's teachings as transmitted by the Zen Master Dōgen.
Eiheiji Now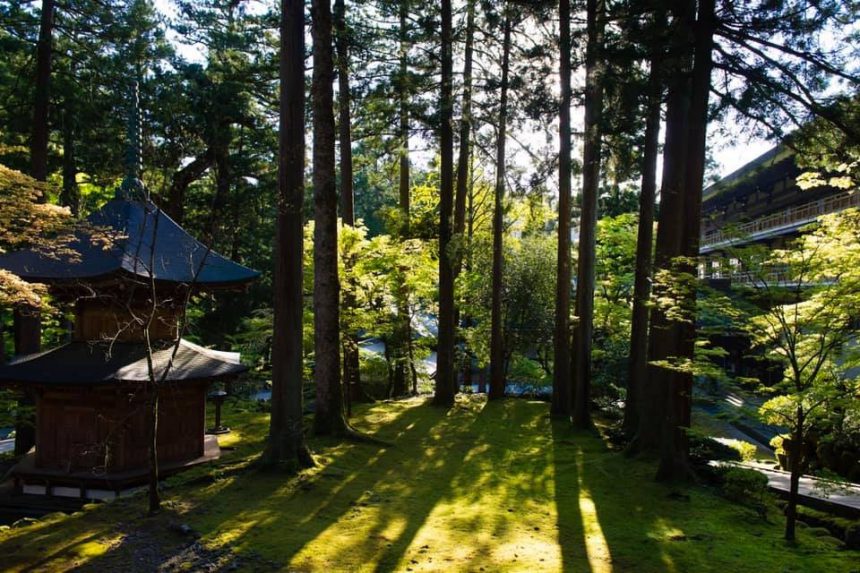 Surrounded by giant cedars, some over 500 years old, the site comprises some 330,000 square meters, with about 200 monks dedicated to rigorous training here. There is a story that says that a young Steve Jobs once considered becoming a monk at Eiheiji.
On average, 6,000 to 7,000 people visit the Eiheiji Temple every day at peak times. One of the reasons for this is to see the roof of the Sanshokaku Pavilion, located along the focal point of the enclosure. As often seen in Japanese temples, the pavilion has a 'coffered ceiling' built like a grid of beams, with flowers and birds that are precisely drawn on each square. 144 famous artists gathered here in 1930 to paint a total of 230 pictures. The works of art, which extend up to the ceiling, make the viewers stop and stare in fascination.
For more information, you can participate in a training experience for either a two-day one-night stay or a four-day three-night stay. During the training experience, you can enjoy Buddhist vegetarian food made by the monks themselves and learn the basic gestures, such as praying, placing your hands, and sitting that is used for the meditation of Zazen.
It is not just a simple tourist experience, it could be a great way to start to understand the teachings of Buddhism. Eiheiji is a large-scale temple with a variety of interesting sites, so even if you don't stay overnight, it is worth taking the time to visit this beautiful and important temple.
Information
Access:
From Eiheiji or Eiheiji-Monzenmae bus stop
Entrance fee:
Adult 500 yen, elementary student 200 yen
Hours:
From 8:30 to 17:00 (subject to change by the season)