Kawaguchiko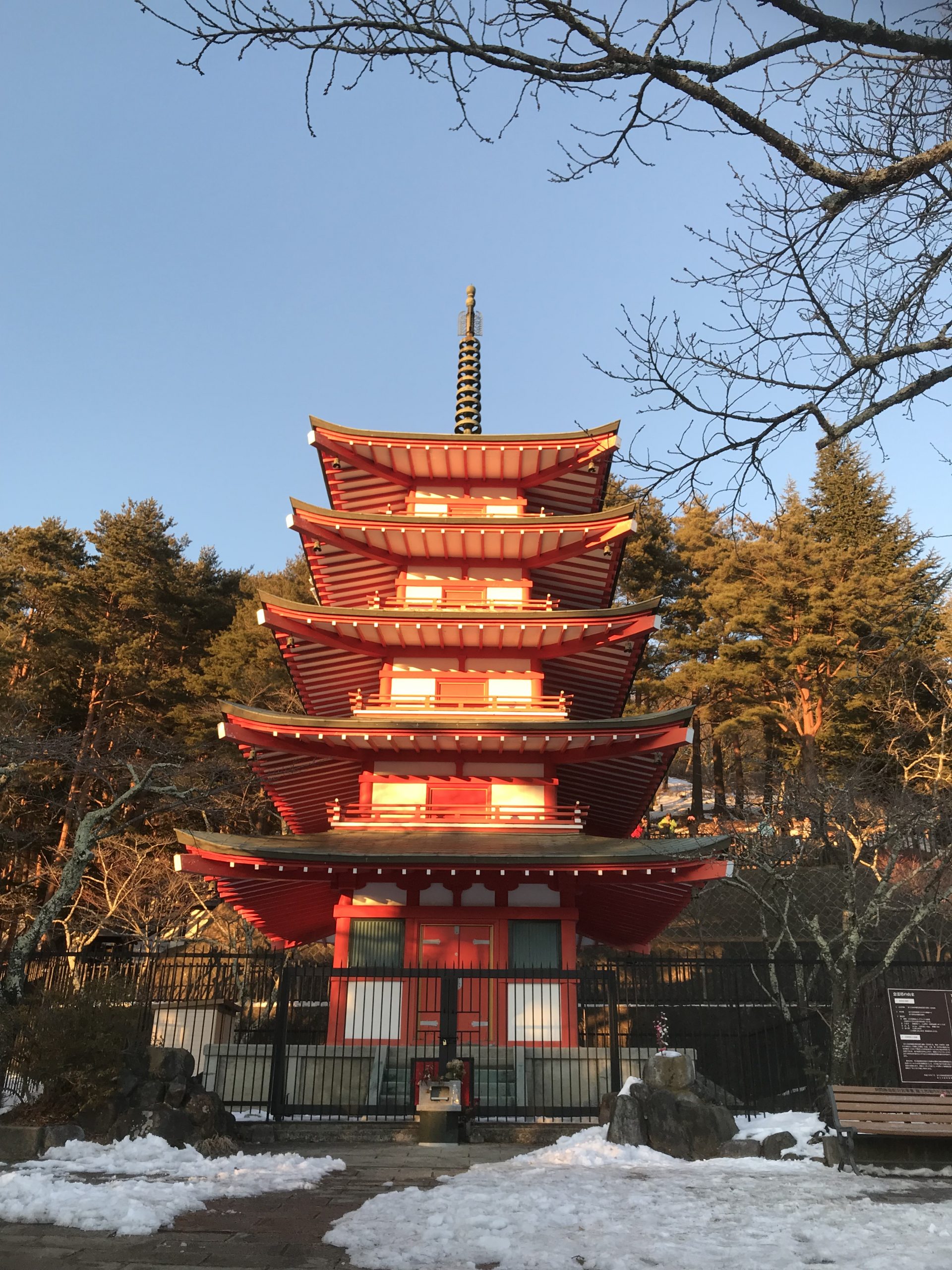 Lake Kawaguchi is the most easily accessible of the Fuji Five Lakes. It is located in Kawaguchiko, a hot spring resort named after the lake, and well connected with central Tokyo by trains and direct buses making it a popular day-trip destination for people staying in Tokyo. The lake is a very popular spot for fishers and campers, but many tourists also come here for the amazing views of Mt. Fuji and other sightseeing.
Things To Do in Kawaguchiko
If you only have one day in Kawaguchiko, then you should make sure to see the highlights. A stop that most people want to make is the Mt Fuji 5th Station, the highest you can go up Mt Fuji without actually climbing it. You have to be a bit lucky to reach it in winter, which is also when the views tend to be better, because whether the bus will go to the 5th station or not depends on the weather. If you make it there, you will get great views of the mountain on good days, and there are souvenir shops where you can buy memorabilia and snacks.
The Kachikachi Ropeway (Mt. Fuji Panoramic Ropeway) is another must-see, with amazing views of the mountain and the lake. If the weather is good, walking down instead of taking the ropeway back down is recommended, especially in spring, summer, and autumn. Near the lake itself is the Oishi Park, where you can take that photo of Mt. Fuji with the lake in the foreground. In most seasons you can also see many blooming flowers in this park making the scenery even more amazing, and in the nearby Kawaguchiko Natural Living Center, you can buy all kinds of products related to blueberries which is a specialty of the area.
The impressive Itchiku Kubota Art Museum doesn't only showcase the lovely work of textile artist Kubota but is also situated in a very special building that reminds visitors of Gaudi. Then, at sunset time the best place to enjoy the sunset from is the Chureito Pagoda, from where some of the most famous pictures of Japan are made.
Things To Do Around Kawaguchiko
It is worth stopping by Oshino Hakkai on the way back to Tokyo. There are eight lakes filled with very clear mountain spring water that only emerged around 80 years ago. A few hundred years ago there used to be a 6th lake but that lake dried out, and the water you can see here today has been filtered through many hardened lava layers which makes it so clean and clear. The locals made it into a tourist hotspot by building traditional-looking houses next to the lakes with some small exhibitions, but it is still worth a visit for the beautifully clear water with clearly visible fish and underwater plants and the nice atmosphere.
For those with more than one day to spend in Kawaguchiko, cycling around the lake within a few hours is a nice way to get a feel of this pretty town, or you can take a rental car to see the Narusawa Ice Cave, Fugaku Wind Cave, and Aokigahara forest.
If you want to be sure not to miss anything and to make the most of your day in Kawaguchiko, going there with a private guide is a good idea.
Your Japan Tour
As seasoned Japan experts, we can help you create your perfect Japan tour including destinations like Kawaguchiko. Contact us to start planning your unforgettable holiday to this fascinating country full of once-in-a-lifetime experiences, culture, history, nature, and delicious food!
Videos
Area Map