Kurashiki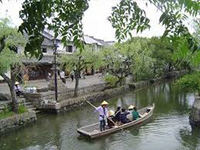 Kurashiki is located in Okayama Prefecture, just beside the prefectural capital of Okayama city. The Ohashi River runs through the center of the city, and a network of canals and rivers makes Kurashiki a city of water. In fact, the name "Kurashiki" literally means "town of storehouses".
The Ohara Museum of Art is also located here and, with its worldwide famous collections including pieces by El Greco, Gauguin, and Monet, is the first museum of western art in Japan, attracting a constant stream of visitors from both home and abroad. In the Bikan Chiku historical area, two small boats are always combing the river where, during the daytime, visitors can enjoy a view of the riverbanks while experiencing a gondola-style boat ride.
When it gets dark, the streets are gently enveloped by soft illumination, making the area enjoyable at night time as well. The Bikan Chiku area, which houses the Ohara Museum of Art and beautiful, historical buildings, is growing as one of the greatest tourist spots in the prefecture, a unique cultural city in Japan.
Area Map