Mt Fuji Shibazakura Festival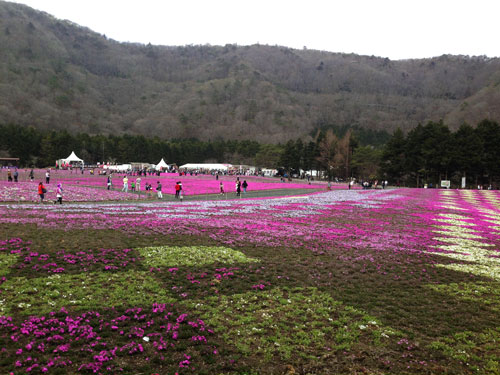 The Fuji Shibazakura Festival is an exceptional event that's held every year near Mt. Fuji in April and May. It is easy to combine visiting the festival with a day trip to Odawara or the outlet mall in Gotemba if you have a rental car.
The Shibazakura flower is a species that blooms in different colors and in different shapes, creating a beautiful multicolored field. The 'zakura' in Shibazakura comes from the word 'sakura' that translates as 'cherry blossom' which is the symbol of spring in Japan. The Shibazakura's flower is known for its strong resemblance to regular cherry blossoms that bloom on cherry trees. It is, however, actually a vine plant that covers the ground like a lawn and, therefore, is called 'cherry trees of the lawn' (Shibazakura) in Japanese.
Many people are looking forward to the blooming of cherry blossoms every year. Not only the regular sakura but also the wonderful Shibazakura is a keenly anticipated flower in Japan. It is an exceptionally beautiful sight when a large amount of Shibazakura bloom throughout the park. In addition, what is so special about the Fuji Shibazakura festival is that you can see the symbol of Japan, Mount Fuji along with the spectacular flowers. The colors match perfectly and the picture is every (hobby) photographer's dream.
The Fuji Shibazakura Festival is one of the best places to enjoy spring in Japan. You will be able to see various types of Shibazakura that bloom throughout the complex. The Shibazakura bloom in small flowers of approximately 1.5 cm in diameter, in red, pink, white, and purple.
Types of Shibazakura
• McDaniel's Cushion
This Shibazakura has large flowers, with dark pink petals, which give it a strong presence. Native to North America, it is characterized by its resistance to cold.
• Mont Blanc
This is a specimen of pink white moss. The leaves have a greenish-yellow color, which makes it easy to distinguish it from other varieties. Even when the flowers are not fully open it gives a bright impression.
• Autumn Rose
Its dark pink color has led it to be called Shibazakura Rosa. It is elegant, full of feminine delicacy.
• Tama-no-Nagare
The petals have white borders, which gives them the appearance of having beautiful spotted patterns, such as pink striped fabrics.
• Oakington Blue-Eyes
The name Shibazakura Oakington comes from an orchid that shows a soft purple color. The petals are dark red and purple that seduce the spectators in a world of romantic beauty. The center of the flower is deep blue, giving a feeling of purity.
Area Map