Takamatsu
Takamatsu, facing the Seto Inland Sea, is the capital of Kagawa, Japan's smallest prefecture. It is the second biggest city in Shikoku with a population of about 420,000 inhabitants. It is the center of the administration, economy, and culture of Shikoku. For many visitors Takamatsu is the gateway to Shikoku; the large, breezy modern city on the northern coast is a major transport hub for roads, rail, and ferry traffic from Honshu across the Seto Inland Sea.
Takamatsu Port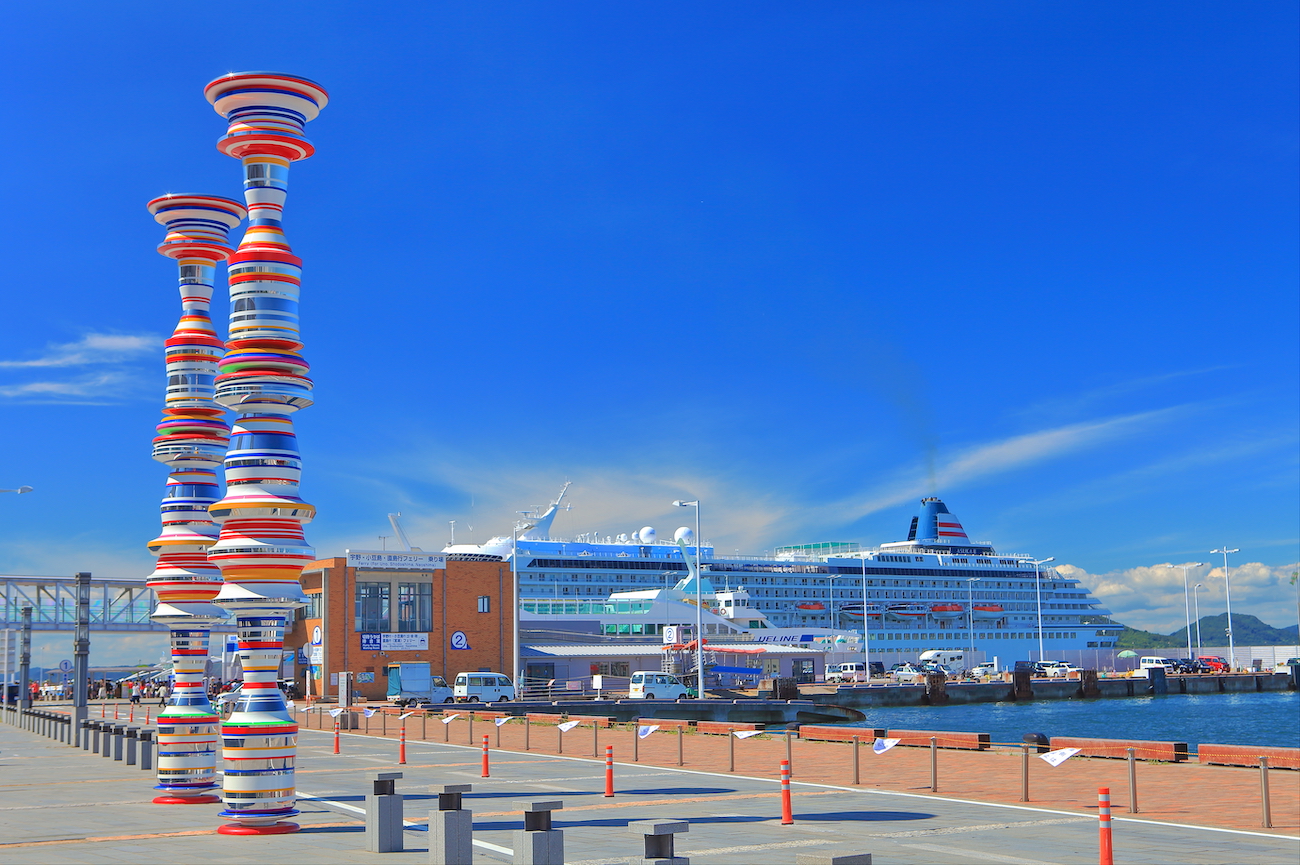 Takamatsu Port used to be the main entry point of Shikoku Island until the opening of the Seto Ohashi Bridge in 1988. You still can visit Takamatsu by the ferry from Honshu, the main island of Japan. You can also go to artistic island Naoshima from this port.
Ritsurin Garden
It was made by successive feudal lords. Ikoma Takatoshi started to create the garden in 1625, and the Matsudaira family finally finished what he started 100 years later. You can enjoy cherry blossoms in spring and beautifully colored maple leaves in autumn.
Tamamo Castle
There is a castle park near Takamatsu Port, it is called Tamamo or Takamatsu Castle. It was constructed by feudal lord Ikoma Chikamasa in 1590. A unique point of this castle is that it has a gate facing the bay. You can see some of the gates and remaining castle buildings in the park. The main keep doesn't exist anymore since it was demolished in 1884, but there are plans to reconstruct it.
Yashima
You can see many old traditional houses in Shikoku-Mura (Shikoku Village). Another attraction is Mt. Yashima, a 293-meter high lava plateau that juts out into the Seto Inland Sea. It is situated at the Bisan-Seto area, famous for its beautiful scenic view of the islands on the Seto Inland Sea. If you see the mountain from the outside, it looks like a table. The view from the top is magnificent and attracts many visitors who come to enjoy the sunset or the night view of Takamatsu.
On the mountain, you will find the ruin of Yashima Castle which was constructed in the 7th century. It was also one of the battlefields where the Minamoto and Taira clans clashed in the late 12th century.
There is a theme park called Shikoku-Mura (Shikoku Village) at the foot of Yashima. Here you can see many local traditional folk houses that were gathered in the park.
Information
Access:
If you go to Takamatsu from Honshu (mainland), the nearest big city is Okayama. Take the rapid train from Okayama to Takamatsu (1 hour).
Video
Area Map